Inherited property?
Don't want to fix up your home?
Need to sell your house fast?
We'll be happy to answer all of your questions. And we'll make your home selling experience as easy and smooth as possible.
Call us at 336-442-5609 to find out more about…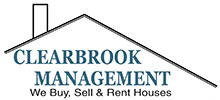 Clearbrook Management, Inc.
2205-K Oak Ridge Road
Suite 113
Oak Ridge, NC 27310
Selling your home in "AS-IS" condition!
All-cash offers for your house
No repairs
No listings
No realtors
No hassle!
Want to sell your house? Click here to get started!